gm. Kłodawski, pow. kolski, woj. wielkopolskie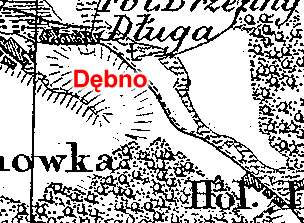 Dębno was a royal village (Kłodawski starosty, owned by Ignacy Kossowski), settled by the Dutch colonists ca. 1780. In 1827, the village had 28 houses inhabited by 230 residents.
The old linear village of Dębno has been entirely transformed; it is located to the west of the Kłodawa - Przedecza road with a longitudinal layout and buildings on the western side of the road.
No elements of the cultural landscape characteristic of the Dutch colonization have survived.

---
J. Goldberg, Osadnictwo ...
SGKP, t.II, 1881, s. 21.