gm. Grabów, pow. łęczycki, woj. łódzkie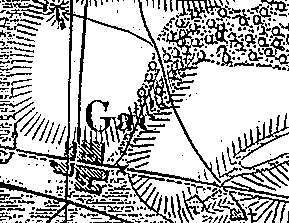 Gać was a gentry village (owned by Józef Skrzyński) colonized by the Dutch settlers in 1779. In 1789, the village had 4 houses and 25 residents. In 1827, the village had 7 houses and 94 residents.
Gać is a small linear village located to the east of Dąbie along the Królewski Canal and the Ner river and to the north of the Kupinin - Błoń-Parcela road. The village is situated on a natural rise of terrain. The homesteads are located on both sides of a road that runs latitudinally through the village. The farmland descends southward.
The cultural landscape characteristic of the Dutch colonization is in good condition. Traditional field and homestead layout are preserved. No examples of traditional architecture associated with the settlers are present.

---
J. Goldberg, Osadnictwo ...
SGKP, t.II, 1881, s. 433.