gm. D±bie, pow. kolski, woj. wielkopolskie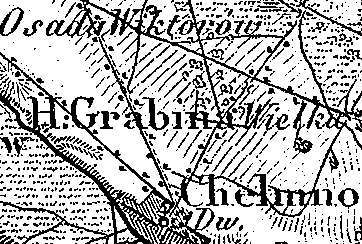 The village was a part of a church estate (owned by Gniezno archbishopric) and was settled by the Dutch colonists in 1779. In 1789, the village had 16 houses and 129 residents. In 1827, it had 22 houses and 169 residents (including Grabina Mała).
Grabina is a linear village located to the northwest of D±bie and to the north of the road to Koło. Homesteads are located on both sides of the road, on a natural rise descending towards the Ner river.
The cultural landscape associated with the Dutch colonization is detectable. Traditional field layout, homestead location, and drainage small ponds collecting the ground water excess have survived. No examples of traditional architecture associated with the settlers are present.

---
J. Goldberg, Osadnictwo ...
SGKP, t.II, 1881, s. 767.