gm. Grabów, pow. łęczycki, woj. łódzkie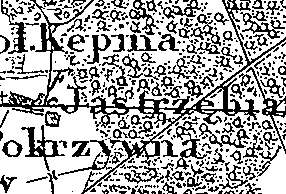 Jastrzębia was a gentry village (owned by Józef Mystkowski) colonized by the Dutch settlers in 1790. In 1827, the village had 12 houses and 115 residents. In the 2nd half of the 19th century a village and a settlement had the same name. The village had 1 house with 7 residents and the settlement 9 houses with 99 residents. The entire complex occupied 526.5 morga of land.
Jastrzębia is a linear village located to the north of Dąbie and to the west of Sobótka. Homesteads stretch mainly on the northern side of the road running through the village latitudinally.
The cultural landscape characteristic of the Dutch colonization is in satisfactory condition. Planted willow trees and draining canals running across the village are detectable. No examples of traditional architecture associated with the settlers are present.

---
J. Goldberg, Osadnictwo ...
SGKP, t.III, 1882, s. 500.