gm. D±bie, pow. kolski, woj. wielkopolskie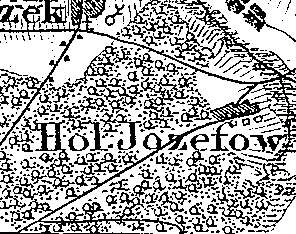 Józefów was a gentry village (owned by Hilary Zabokrzecki) colonized by the Dutch settlers in 1792. In 1882, the village had 9 houses, 75 residents, and 169 morga in area.
Józefów is a linear village located to the north of D±bie and southwest of Umień, along the east-west line; It has post-war buildings stretching on both sides of the road.
The cultural landscape characteristic of the Dutch colonization has been transformed; however, certain elements are still visible such as: ponds collecting ground water excess and poplars planted along the road.

---
J. Goldberg, Osadnictwo ...
SGKP, t.III, 1882, s. 610.