gm. Dalików, pow. poddębicki, woj. łodzkie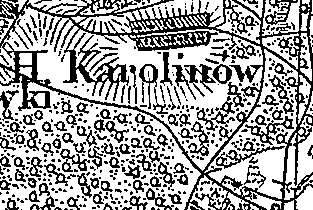 In 1827, the village had 12 houses and 86 residents. In 1882, it was divided into two settlements: Karolinów A and Karolinów B. The first settlemnt had 5 houses and 47 residents and the second one, 5 houses and 56 residents.
Karolinów is a small linear village located to the north of the Aleksandrów Łódzki - Poddębice road. The village is situated latitudinally and longitudinally with homesteads on both sides of the road. Buildings are located on a slight, natural rise above the farmland. Terrain descends southward towards the river (canal ?) collecting the excess of ground water.
The traditional landscape related to the Dutch colonization is easily detectable. The village location, planted trees, and canals draining excess water to the local river (canal ?) confirm the origin of the settlement.

---
SGKP, t. III, 1882, s. 852.