gm. Grabów, pow. łęczycki, woj. łódzkie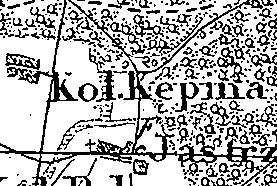 In 1827, the village had 7 houses and 50 residents; in 1882, 5 houses, 50 residents, and 120 morga of light soil suitable for rye. Majority of the residents belonged to the Evangelical Church.
Kępina is a small linear village located to the north of Jastrzębie and to the west of Sobótka. The homesteads are located on both sides of an improved dirt road running through the village latitudinally.
The cultural landscape characteristic of the Dutch colonization is in satisfactory condition. The entire village is situated on a slight rise. No examples of traditional architecture associated with the settlers are present. The colonists' cemetery has survived in the eastern part of the village.

The cemetery is currently located in a forest on the eastern side of the Jastrzębie - Radzyń road. The cemetery has a rectangular layout and is entirely overgrown with bushes; no gravestones have survived.
---
SGKP, t. III, 1882, s. 500, 959.