gm. Czosnów, pow. nowodworski, woj. mazowieckie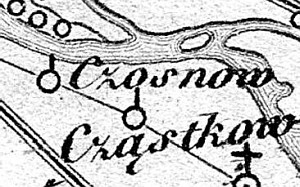 The Dutch colonists settled in the village ca. 1800. After the Kościuszko resurrection, the village was granted to a Russian general Czosnow as a reward for his military services. He sold the village to six Mennonites: Franz Bartel, Johann Jantz and Gerhard Nickel among others.
Initially, Czosnów was a linear village; currently, it is a multi-street village located to the south of Nowy Kazuń and to the north of Cząstków, between the Warszawa-Gdańsk road and the Vistula river. The soils are fertile and well suited for wheat. The village is located on the area elevated above the periodically flooded meadows by the Vistula; therefore, it has been protected against flooding. The village has been transformed and i
ts buildings are new. The landscape characteristic for the Dutch colonization has been preserved below the building line towards the Vistula. The balks are planted with willows and poplars; ponds, drainage canals, roads leading towards the flood-bank (also planted with trees) are clearly visible.

---
E. L. Ratzlaff, Im Weichselbogen. Mennonitensiedlungen...