gm. Parzęczew, pow. zgierski, woj. łódzkie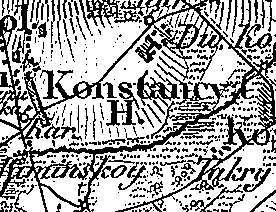 The village was settled by Dutch colonists probably at the beginning of the 19th century. In 1883, it had 2 houses and 14 residents.
Konstantki is a linear village located to the southwest of Ozorkowo with homesteads situated mainly on the eastern side of the village road running longitudinally.
The cultural landscape characteristic of the Dutch colonization has survived. Noteworthy are two homesteads located on small artificial rises with post-war buildings drawing on typical Olęder design, i.e. residential and farming sections under a common roof.

---
SGKP, t. IV, 1883, s. 426.