gm. Daszyna, pow. łęczycki, woj. łódzkie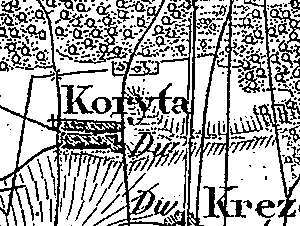 Koryta was a gentry village (owned by Ignacy Rudnicki) colonized by the Dutch settlers ca. 1789. In 1789, it had 11 houses inhabited by 76 residents. In 1790, it had only 4 houses.
Koryta is a linear village situated latitudinally on the western side of the Włocławek - Łódź (north of Garbalin) with post-war buildings on both sides of the road.
The cultural landscape characteristic of the Dutch colonization has been completely transformed. No material evidence of colonists' residence is present.

---
J. Goldberg, Osadnictwo ...
SGKP, t. IV, 1883, s. 426.