gm. D±bie, pow. kolski, woj. wielkopolskie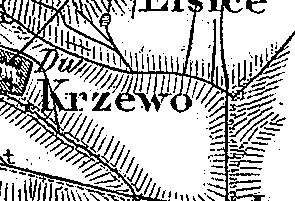 Krzewo was a gentry village (owned by Mateusz D±browski) colonized by the Dutch settlers ca. 1789. In 1789, it had 9 houses inhabited by 49 residents. In 1883, the village had 13 houses and 278 residents.
Krzewo is a medium size linear village located east of D±bie along the Królewski canal and the Ner river. The homesteads are located on both sides of a road that runs latitudinally through the village. The farmland descends southward.
The cultural landscape characteristic of the Dutch colonization is in very good condition. Traditional field layout, homestead location, ponds collecting the excess of ground water, and draining canals have been preserved. No examples of traditional architecture associated with the settlers are present; however, many houses erected after WWII draw on traditional design. This is especially true for buildings made of cut limestone facing the road (southern side) with gables and housing residential and farming sections under a common roof.

---
J. Goldberg, Osadnictwo ...
SGKP, t. IV 1883, s. 791.