gm. Grabów, pow. łeczycki, woj. łódzkie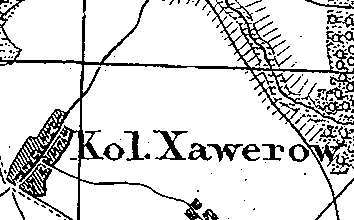 Ksawerów is a royal village (owned by Franciszek Jerzmanowski, Sobótka tenancy) colonized by the Dutch settlers in 1788. In 1789, together with the village of Ksawerówek, it had 23 houses and 133 residents. In 1883, the village had 14 houses, 194 residents (majority of whom were of Evangelical denomination), and 425 morga of sandy soils.
Ksawerów is a linear village located to the north of Grabowo with buildings on both sides of the village road, which runs from northeast to southwest. The village stretches along a small river with homesteads situated on a natural rise.
The cultural landscape of the Dutch village is in good condition. Numerous canals draining water excess from the farmland bear testimony to the colonists' achievements.

---
J. Goldberg, Osadnictwo ...
SGKP, t. IV 1883, s. 823.