gm. Grabów, pow. łęczycki, woj. łódzkie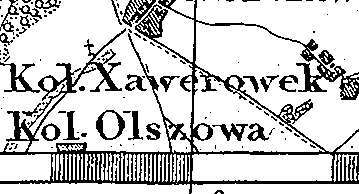 Ksawerówek was a royal village (owned by Franciszek Jerzmanowski, Sobótka tenancy) and was colonized by the Dutch settlers in 1788. In 1789, together with the village of Ksawerów, it had 23 houses and 133 residents. In 1883, the village had 8 houses, 96 residents (majority of whom were of Evangelical denomination), and 293 morga of light soil ploughland.
Ksawerówek is a linear village located to the north of Grabowo with buildings on both sides of the road, which runs from northwest to southeast. It is situated on a natural rise of terrain.
The cultural landscape of the Dutch village is in satisfactory condition. A cemetery located among fields, in the southwestern section of the village testifies to the settlers' residence in the village.

The cemetery was established on a layout resembling a 70 x 70 m square. It is devastated and entirely overgrown with bushes and self-sown trees. Grave mounds are visible. No gravestones have survived.
---
J. Goldberg, Osadnictwo ...
SGKP, t.IV 1883, s. 824.