gm. Bedlno, pow. kutnowski, woj. łódzkie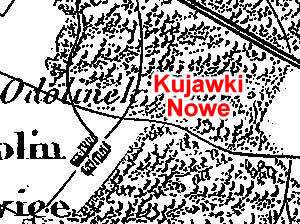 Kujawki Nowe was a gentry village (owned by Jan Nepomucen Gajewski) and was colonized by the Dutch settlers in 1787. In 1789, the village had 1 house and 4 residents. In 1883, the village had 14 houses, 94 residents, and 214 morga of land suitable for rye.
Kujawki Nowe is a linear village located by a dirt load running parallel to the Łowicz - Kutno road. Residential and farm buildings are modern and are located on the southern side of the road.
The traditional Dutch cultural landscape has been modified. No historical objects associated with this colonization have survived.

---
J. Goldberg, Osadnictwo...
SGKP, t.IV, 1883, s. 850.