gm. Kłodawa, pow. kolski, woj. wielkopolskie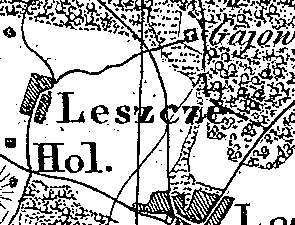 Leszcze was a gentry village (owned by Daniel Słubicki) and was colonized by the Dutch settlers in 1789. In 1827, the village had 10 houses and 105 residents. In 1884, it had 65 morga of land, including 52 morgas of ploughland and 13 morgas of muddy meadows. The village included older, pre-property rights settlements: 13 - each had 4 morgas of ploughland and 1 morga of meadows and newer, post-property rights settlements: 10 - with more diverse acreage (from less than 1 morga up to 5 morgas). According to the Słownik Geograficzny, all 147 village inhabitants belonged to the Roman Catholic denomination.
Leszcze is a small linear village located to the north of the village of Bierzwienna Długa and to the west of the Kłodawa - Przedecz road. Buildings located on both sides of the village road running along the north-south line.
The cultural landscape characteristic of the Dutch colonization has been transformed. No material evidence of the colonists' residence is present.

---
J. Goldberg, Osadnictwo ...
SGKP, t.V, s. 170, 1884