gm. Gostynin, pow. gostyniński, woj. mazowieckie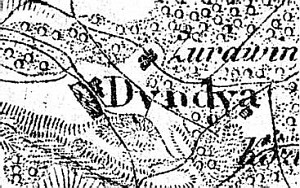 The village was founded by the Dutch settlers at the end of the 18th century. In 1827 it had 11 houses and 62 residents. Dendyja was incorporated into the village of Osiny in 1969. It is a linear village located to the north of Osiny, along a north-south line with buildings on both sides of the dirt road that runs through the village. The settlement is located on a natural rise above the surrounding fields.
The cultural landscape characteristic for the Dutch colonization has been transformed. No material evidence for the colonists' residence has survived.

---
Dzieje Gostynina...;
SGKP, T. II, 1881, s. 251.