gm. Parzęczew, pow. zgierski, woj. łódzkie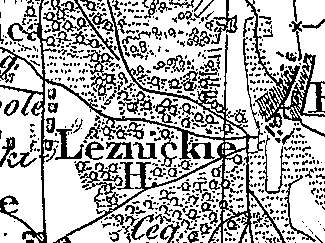 Total area of the village and manor equaled 799 morgas (in 1884). The village included 8 freehold settlements established on 25 morgas of land. Furthermore, it included 16 settlements of smallholders, who owned a small yard with a house and few-pręt gardens. Total number of residents equaled 389 (including 199 men).
Leźnica Wielka is a small linear village located to the south of Boryszyna with homesteads on both sides of a road running through the village latitudinally.
The cultural landscape characteristic of the Dutch colonization has been transformed. No material evidence of the colonists' residence is present.

---
SGKP, t. V, 1884, s. 197.