gm. D±bie, pow. kolski, woj. wielkopolskie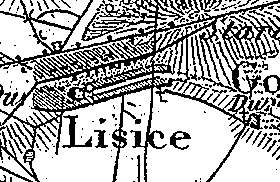 Lisice was a gentry village (owned by Rupret Dunin) colonized by the Dutch settlers ca. 1790. In 1827, it had 14 houses inhabited by 160 residents. In 1884, the village comprised 21 houses and 272 residents.
Lisice is a small linear and multi-street village (initially linear) located by the D±bie - Łęczyca road, to the northeast of D±bie. The homesteads are located on both sides of a road that runs latitudinally through the village.
The cultural landscape associated with the Dutch colonization has been transformed. The western section of the village preserved its authentic character. No examples of traditional architecture associated with the settlers are present.

---
SGKP, t.V, s 309, 1884
Łaski