gm. Łódź, pow. łódzki, woj. łódzkie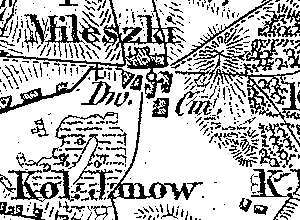 Mileszki was a gentry village (owned by Jan Kanty Stetkiewicz) partially settled by the Dutch colonists in 1790. At that time, they established a new settlement, Janów near the village of Mileszki. In 1827, the village had 38 houses and 343 residents. In 1885, the village had 28 houses, 263 residents and 374 morgas of land. It had a wooden parish church.
Initially, it was a medium size linear village located to the east of Łódź, next to Nowosolna; currently it is located within the Łódź city limits. The village has been completely transformed as a result of urbanization.
The cultural landscape associated with the Dutch colonization has been completely transformed. No examples of traditional architecture associated with the settlers are present.

---
SGKP, t. VI, s. 1885, s. 423-424.