gm. Krzyżanów, pow. kutnowski, woj. łódzkie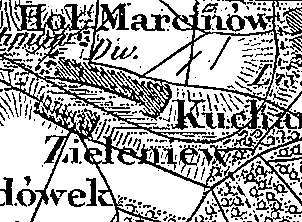 Marcinów was a gentry village (owned by Jan Krosnowski) colonized by the Dutch settlers in 1785. In 1790, the village had 7 houses. In 1885, the village had 7 houses and 79 residents.
Marcinów is a linear village located by the road from the village of Wały A to Siemienice, which diverges southward from the Kutno-Łódź route. The village is situated along a north - south line. It comprises post-war buildings, which are located on both sides of the road.
The cultural landscape characteristic of the Dutch colonization is not detectable. No material evidence related to this colonization is present.

---
J. Goldberg, Osadnictwo ...
SGKP, t.VI,1885, s. 108.