gm. Gostynin, pow. płocki, woj. mazowieckie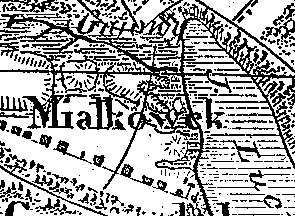 The village was founded by German colonists under the Dutch law at the end of the 18th century. Circa 1800, it had an Evangelical school. By 1827, the village had 17 houses and 162 residents. In 1881, 22 houses and 173 residents, 124 morgas of light soil suitable for rye, and 30 morgas of meadows. The village had a masonry elementary school.
Miałkówek is a multi-street and linear (eastern section) village located to the west of Lucień on the Lucieński lake, along an east-west line.
The cultural landscape characteristic of the Dutch colonization has been destroyed as a result of transformation into a summer resort (numerous recreation centers).
The cemetery, which has survived in the village center, is the only object that remained after the colonists.

The cemetery has a rectangular layout and it is located on the southern side of the road across from the school. The cemetery is entirely overgrown with bushes and self-sown trees. No gravestones have survived.
---
Dzieje Gostynina i Ziemi Gostynińskiej, pod red. M. Chudzyńskiego, Warszawa 1990
SGKP, T. II, 1881, s. 536.
M. Zbieranowski, Wypisy do słownika wsi holenderskich, Warszawa 2003, rkps w zbiorach autora.