gm. Parzęczew, pow. zgierski, woj. łodzkie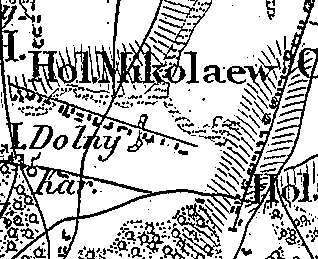 The village was settled by the Olęder colonists probably at the beginning of the 19th century. In 1885, it had 3 houses, 93 residents, and 48 morgas in area.
Mikołajew is a linear village located to the southwest of Ozorków; homesteads are situated on both sides of the village road with a near-latitudinal layout. The village is located on a slight rise with farmland descending towards the draining ditches, which run parallel to the road.
Elements of the cultural landscape characteristic of the Dutch colonization are detectable. Planted willows and poplars are present. Examples of post-war buildings that draw on the Dutch design are present; residential and farming sections are located under a common roof (houses no. 6, 7, 14, 20, and 22). One building associated with the Dutch colonization has survived.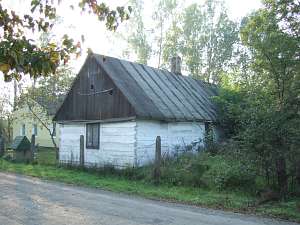 Object no. 3 is a masonry and wooden building erected in the 1920s; it is situated along an east-west line facing the village road with a gable. A residential section and a cowshed are located under a common roof. It is made of a clay-straw mixture (cowshed) and pine (residential section); it has a corner-notched structure joined at quoins by dovetail halvings. The structure is covered with a double-pitched roof with roofing paper. It has a single-bay interior and a rebuilt fire system. The building is in a good condition. The homestead is separated from the road with wire net fence.
---
SGKP, t. VI, 1885, s. 398.