gm. Poddębice, pow. poddębicki, woj. łódzkie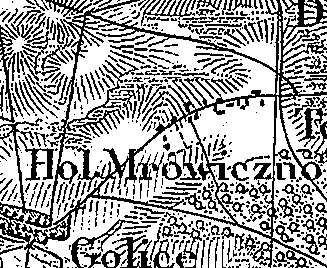 Mrowiczyna was a gentry village. In 1827, it comprised 10 houses and 53 residents, and in 1885, 10 houses and 87 residents. The village was a part of the Gorlice estate.
Mrowiczyna is a small multi-street village located to the northwest of Poddębice (to the north of the village of Tarnowa) with homesteads situated mainly on the southern side of the village road running latitudinally.
The village has been transformed; it has new buildings and undetectable cultural landscape related to the Dutch colonization.

---
SGKP, t. VI, 1885, s. 767.