gm. Kłodawa, pow. kolski, woj. wielkopolskie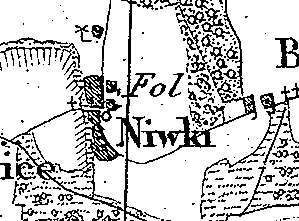 Niwki was a gentry village (owned by Walenty Zaborowski) colonized by the Dutch settlers in 1785. In 1827, it had 3 houses and 22 residents; in 1886, it comprised 9 houses and 198 residents, 698 morgas of farmland including 14 morgas of peasant land.
Niwki is a linear village located to the southeast of the settlement of Kaleń Duża with homesteads on the eastern side of the road and post-war buildings. The village road perpendicularly crosses the canal draining excess water to the Rgilówka river.
The cultural landscape characteristic of the Dutch colonization has been transformed. No material evidence of the colonists' residence is present.

---
J. Goldberg, Osadnictwo ...
SGKP, t.VII, s. 1886, s. 164.