gm. Parzęczew, pow. zgierski, woj. łódzkie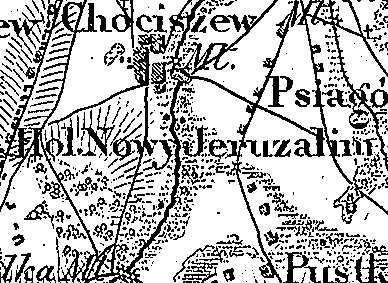 In 1886, the village had 6 houses and 57 residents. It belonged to the Parzęczew parish.
Nowa Jerozolima is a linear village located to the southwest of Ozorków; homesteads are situated on both sides of the village road with a near-latitudinal layout. The village is located on a slight rise with farmland descending towards the draining ditches, which run parallel to the road.
Elements of the cultural landscape characteristic of the Dutch colonization are detectable. Planted willows and poplars are present. Examples of post-war buildings drawing on the design characteristic of the Dutch buildings are present; residential and farming sections are under a common roof (house no. 3, among others). The colonists' cemetery is located on the northern border with a neighboring village and on the western side of a dirt road.

The cemetery's layout resembles a 30 x 30 m square; it is located across a homestead and is surrounded from three sides by fields. It is entirely overgrown by bushes and trees; no gravestones have survived.
---
SGKP, t.VII, 1886, s. 195.