gm. Grabów, pow. łęczycki, woj. łódzkie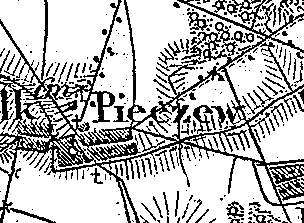 The village was a part of a church estate (owned by Gniezno archbishopric) and was settled by the Dutch colonists ca. 1793. In 1887, the village had a wooden church, an elementary school, 27 houses, 297 residents, 543 morga of peasant land, and 151 morga of formerly church land.
Pieczew is a large multi-street village located by the Dąbie - Sobótka road, to the west of Grabowo.
The cultural landscape characteristic of the Dutch colonization has been transformed. No examples of traditional architecture associated with the settlers have survived.

---
J. Goldberg, Osadnictwo ...
Łaski
SGKP, t.VIII, 1887, s. 73.