gm. Poddębice, pow. poddębicki, woj. łódzkie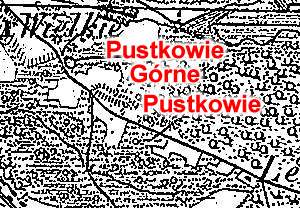 Pustkowie Górne was a church estate village (owned by Norbertine convent in Łęczyca) colonized by Dutch settlers before 1790. In 1790, it had 7 houses. In 1888, the village had 13 houses and 126 residents.
Pustkowie Górne is a linear village (rzędówka bagienna) with homesteads scattered among fields; main access road runs from the southern side; village stretches along the Bełdówka river (on its northern bank).
No historical objects associated with the Dutch colonization have survived. The cultural landscape is detectable. Preserved are field layout with planted trees, ditches draining ground water to the Bełdówka, and the road system, which is slightly raised above the surrounding terrain.

---
J. Goldberg, Osadnictwo ...
SGKP, t.IX, 1888, s. 310.