gm. Parzęczew, pow. zgierski, woj. łodzkie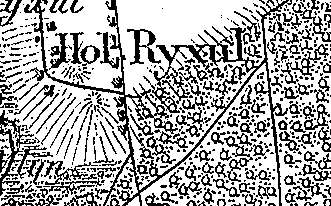 The village of Reksuł was a part of the governmental estate, Krzepocin. In 1888, the village comprised 7 houses and including the settlement of Kobylany had 79 residents. The settlement had 1 house inhabited by 4 residents.
Reksuł is a linear village located to the north of the village of Sobień, on the Bzura river, and between the villages of Sokola Góra and Tkaczewska Góra; homesteads are situated on both sides of the village road with a near-longitudinal layout.
Elements of the cultural landscape characteristic of the Dutch colonization are detectable. The village is situated on a natural rise of terrain. Fields slightly descend westward, away from the road. Numerous poplar and willow trees extracting water excess from the ground are present. A small river runs parallel to the road draining the excess of ground water.
The colonists' cemetery has survived in the southern section of the village, on the eastern side of the road.

The cemetery's layout resembles a ca. 50 x 50 m square and is entirely overgrown by bushes and self-sown trees; no gravestones have survived.
---
SGKP, t.IX, 1888, s. 607.