gm. Grabów, pow. łęczycki, woj. łódzkie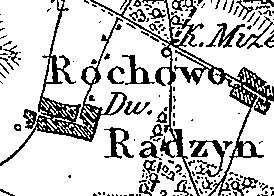 Rochów was a royal estate village (Sobótka tenancy, owned by Franciszek Jerzmanowski) colonized by the Dutch settlers in 1783. In 1888, the village had 10 houses, 134 residents, and 242 morgas of land suitable for wheat.
Rochów is a large linear and multi-street village located to the northwest of Sobótka. Homesteads stretch on both sides of the village road running along a northwest-southeast line.
The cultural landscape characteristic of the Dutch colonization has been transformed. No examples of traditional architecture associated with the settlers have survived.

---
SGKP, t.IX, 1888, s. 648.