gm. Dąbie, pow. kolski, woj. wielkopolskie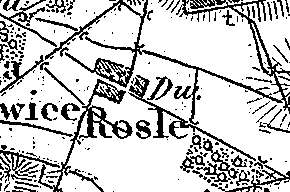 In 1576, the village of Rośle was owned by Anna Duninowem, Piotr Dunin's widow. It had 6 łans in area and included 10 settlements. In the 16th century, the tithe from the manor land was received by a parson in Pieczewo, while the tithe from the peasant's land was received by the archbishopric in Gniezno. In 1827, the village had 9 houses and 121 residents. In 1888, the village had 22 houses, 202 residents, and 405 morga in area.
Rośle Duże is a small linear village located to the northwest of Dąbie and to the north of the Dąbie - Łęczyca road. Homesteads are located on north side of a road that runs through the village latitudinally. Farmland descends in the southern direction, towards the draining canals.
The cultural landscape characteristic of the Dutch colonization is in good condition. Traditional field layout, homestead location, and canals collecting the ground water excess are preserved. No examples of traditional architecture associated with the settlers have survived.

---
SGKP, t.IX, 1888, s. 757-758.