gm. Zgierz, pow. zgierski, woj. łódzkie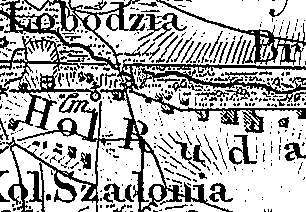 Ruda was a gentry village (owned by Walenty Chobrzyński) colonized by the Dutch settlers in 1782. In 1789, the village had 18 houses and 95 residents. in 1790, the village comprised 21 houses.
At the beginning of the 16th century, the village had no farmland. In 1827, the village had 21 houses and 215 residents. In 1888, the village had an Evangelical parish church. It had 23 houses, 251 residents, and 521 morgas of peasant land; the Evangelical presbytery included 1 house, 5 residents, and 40 morgas of land.
Ruda is a small linear village located to the north of Aleksandrowo with homesteads situated on both sides of the road, which runs through the village latitudinally.
The cultural landscape associated with the Dutch colonization is undetectable. No examples of traditional architecture associated with the settlers have survived.

---
J. Goldberg, Osadnictwo ...
SGKP, t.IX, 1888, s. 886.