gm. Dąbie, pow. kolski, woj. wielkopolskie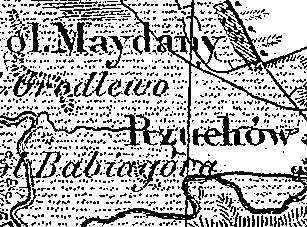 The village was a part of a church estate (owned by Gniezno archbishopric) and was settled by the Dutch colonists in 1783. It was located by the Ner river. In 1789, it had 15 houses and 141 residents. in 1790, the village comprised 17 houses. In 1827, the village had 28 houses and 455 residents. In 1889, the village included a colony, a settlement, and an inn settlement. The colony had 67 houses and 632 residents, the settlement and the inn settlement had each 1 house and 7 residents.
The old village was located on the border of the villages of Majdany and Budy Przybyłowskie. Homesteads are located on the western side of the longitudinal village road, near the Warta river.
The cultural landscape characteristic of the Dutch colonization is in good condition. Numerous planted trees and bushes, location of homesteads on a rise, and draining canals bear witness to the colonists' residence in the village. No examples of traditional architecture associated with the settlers have survived.

---
J. Goldberg, Osadnictwo ...
Łaski
SGKP, t.X, 1889, s. 168.