gm. Olszówka, pow. kolski, woj. wielkopolskie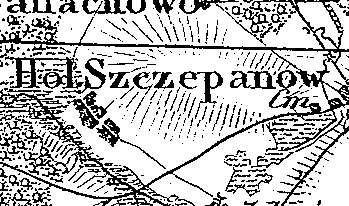 Szczepanów was a gentry village (owned by Hilary Zabokrzecki) colonized by the Dutch settlers in 1792. In 1890, the village had 8 houses and 53 residents.
Szczepanów is a linear village located to the north of Dąbie and to the west of Umień. Homesteads stretch mainly on the western an improved dirt road running through the village along a northwest-southeast line.
The cultural landscape characteristic of the Dutch colonization has been transformed. No examples of traditional architecture associated with the settlers have survived.

---
J. Goldberg, Osadnictwo ...
SGKP, t.XI, 1890, s. 842.