gm. Parzęczew, pow. zgierski, woj. łodzkie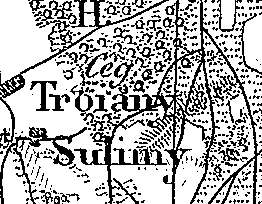 The village was founded at the beginning of the 19th century. In 1827, it had 8 houses and 93 residents. In 1892, the village had 8 houses and 102 residents.
Trojany is a linear village located to the west of Ozorków near Borszyn. Homesteads are situated on both sides of the road running through the village along a near-latitudinal line.
Elements of the cultural landscape characteristic of the Dutch colonization are detectable. The village is situated on a natural rise of terrain. Fields located behind the buildings slightly descend away from the road. Numerous poplar and willow trees extracting water excess from the ground are present. Two canals draining the excess of ground water run parallel to the road on the southern and northern sides.

---
SGKP, t. XII, 1892, s. 482.