gm. Łomianki, pow. warszawski zachodni, woj. mazowieckie

The village was founded at the beginning of the 19th century under the Dutch law as part of Dziekanów Polski, which from the mid 19th century, belonged to Trębicki family. The Dziekanów estate included 1580 morga of land. In 1881, in Diziekanów Niemiecki, there were 17 farms with 247 morga of land. Dziekanów Leśny is located on the edge of the Kampinos forest, on the western side of the Warszawa - Gdańsk road.
Initially, Dziekanów Leśny was a linear village, but later it has been completely transformed as a result of urbanization. The cemetery is all that remains after the Dutch colonists.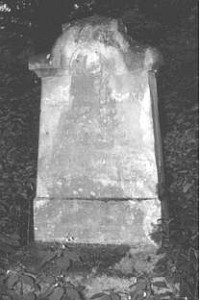 The cemetery is situated on the edge of dunes and the forest in the western part of the settlement, next to the fence of the Instytut Ekologii PAN (Institute of Ecology of the Polish Academy of Science). It is almost completely destroyed and overgrown with trees and bushes. Remains of a fence and a gate, as well as a few damaged gravestones have survived. The A. Louisówna gravestone has a legible inscription.

---
SGKP, t. II, 1881, s. 272;
T. Swat, Mennonici na Mazowszu...