gm. D±bie, pow. kolski, woj. wielkopolskie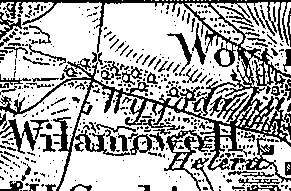 Wilimów was a gentry village (owned by Hilary Zabokrzecki) colonized by the Dutch settlers in 1792.
Wilimów is a linear village located to the north of D±bie and to the west of the road to Kłodawa. Homesteads stretch mainly on the northern side of an improved dirt road running through the village along a canal/river, which drains excess of the ground water.
The cultural landscape characteristic of the Dutch colonization has survived. The village is located on a rise. The fields descend towards the river. Numerous poplars, willows, and draining canals are present. No examples of traditional architecture associated with the settlers have survived.

---
J. Goldberg, Osadnictwo ...