gm. D±bie, pow. kolski, woj. wielkopolskie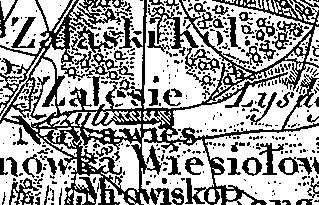 Zalesie was a gentry village (owned by Rupret Dunin) colonized by the Dutch settlers ca. 1789. In 1790, it had 6 houses. In 1827, the village had 7 houses and 39 residents. In 1895, the village had 7 houses and 96 residents; the manor had 2 houses and 32 residents.
Zalesie is a linear village located to the northeast of D±bie and to the east of the road to Kłodawa. Homesteads are located on both sides of an improved dirt road running through the village.
The cultural landscape characteristic of the Dutch colonization has been transformed. Numerous poplars, willows, and draining canals are present. No examples of traditional architecture associated with the settlers have survived.

---
J. Goldberg, Osadnictwo ...
SGKP, t. XIV, 1895, s. 331.