gm. Markusy, pow. elbl±ski, woj. warmińsko - mazurskie

Until 1945 Gross Bredsende TK (, Schrötter)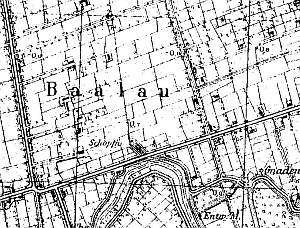 The village was founded in 1631 by Dutch colonists. In 1776, the following surnames were mentioned: Funck, Horn, Claasen, Liebert, Nickel, Penner, Quiring, and Scheffler. In 1820, the village had 106 residents, including 37 Mennonites.
Village layout - a linear village with single-building homesteads located on terpy on the eastern side of the Jezioro - Markusy road.
Detectable features of the cultural landscape include: homestead and field layouts, drainage canals, and terpy with disappearing buildings. Historical buildings are being replaced or transformed. Until recently the village primarily had Dutch homesteads with brick houses dating from the beginning of the 20th and wooden houses from the 19th century.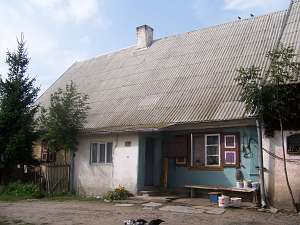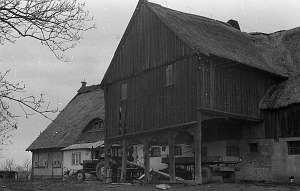 No. 22 is a Dutch homestead of the longitudinal type located in the southern section of the village, on the eastern side of the Jezioro - Markusy road and faces it with the gable. Farming buildings are slightly higher. The barn has been taken down. The house was erected at the end of the 18th century and sits on brick foundation. It has a plastered log structure with quoins covered with boards imitating pilaster or curved into Parthian arch, a vertically boarded gable, and a rafter - double-collar beam roof structure covered with asbestos tiles. The building has a 2-bay rectangular layout with a wider southern bay, the large room located in the southwestern corner, a black kitchen in the large room bay, and an L-shaped bipartite hallway. The southern elevation has 3 axes, a 2-level gable with 3 axes at the bottom, three windows and a single window above. The southern elevation has 5 axes and an entrance with a contemporary porch. Hipped roof windows were liquidated when the roofing was replaced. A half-timbered extension was added to the cowshed on the southern side. It was supported by 5 columns; currently it is dilapidated.
---
Lipińska, t. III, poz. 118, AG, BF.