gm. Brochów, pow. sochaczewski, woj. mazowieckie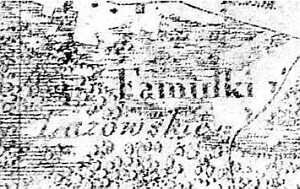 The Dutch colonists were imported to this area in the first half of the 19th century in order to establish a network of canals and drain the land. In 1827, the village had 11 houses and 80 residents.
Initially, Famułki Łazowskie was a linear village located to the north of the Kanał Łasica and to the south of Famułki Królewskie within the Kampinos forest. The village no longer exists; its land has been incorporated into the Kampinoski Park Narodowy (Kampinos National Park). A cemetery is all that remains after the colonists' residence.
The cemetery is located next to the Kanał Łasica, on its northern side, by the Famułki Królewskie - Władysławowo road. It has a square layout and is completely overgrown with bushes. No gravestones have survived; burial mounds are barely detectable.

---
SGKP, T. II, 1881, s. 373.