gm. Elbląg, pow. elbląski, woj. warmińsko - mazurskie

Until 1945 Zeyer, Bollwerk, Craffohlsdorf, Kraffohlsdorf, after 1945 Nowakowo I PGR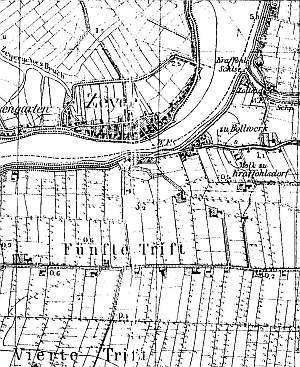 The area belonged to the village of Kępki located on the eastern bank of the Nogat. Until the completion of the bridge in 2005, this used to be a location of the old ferry. A cemetery, a Lutheran church, fishermen houses, and a Dutch homestead were located next to the flood bank. The houses of the village of Nowakowo are located to the east while the non-extant village of Craffohlsdorf stretched along the Kanał Jagielloński. The section of the settlement located by the ferry was established in the 14th century. Between 1703 and 1706, the section of village located by the flood bank received a charter.
Village layout - flood bank row village on the eastern bank of the Nogat.
The cultural landscape of the village has been almost entirely transformed after 1945 due to the development of a state farm and the construction of the bridge over the Nogat The Lutheran church was demolished after 1945; the cemetery has been undergoing constant devastation. No houses have survived next to the Kanał Jagielloński. In the western section, the last Dutch homestead (No. 16) was taken down in the 90s. Only 3 historical buildings (plus several in the colony) have survived, but are severely transformed.

No. 16 is a Dutch homestead of the longitudinal type; it includes a wooden house, a short cowshed, and a single-threshing floor barn. The homestead is located on the southern side of the road leading towards the ferry crossing. The house was erected at the beginning of the 19th century and renovated in 1890. It has a corner-notched log structure with covered quoins, a vertically boarded gable and a brick foundation. The interior has a two-bay layout with similar bays, a centrally located black kitchen and an L-shaped, five-door hallway, which separates the residential and farming sections. The hallway has also stairs leading to the loft. The gable elevation has 2 axes and a two-level gable with a window enclosed quarter circular skylight and a semicircular window in the finial. The southern elevation has 4 axes and an entrance in the 2nd axis from the east.
---
Piątkowski; Lipińska, t.III, poz. 59