gm. Gronowo Elbląskie, pow. elbląski, woj. warmińsko - mazurskie

Until 1945 Schlammsack, (Endersch, Schrötter) Schlawtlaw (Gotha)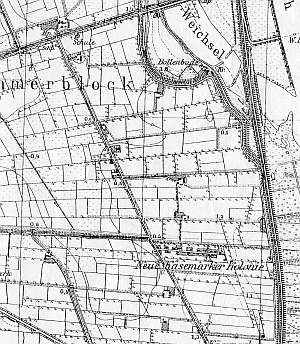 The village was located in the Elbląg region and was founded in 1648 (1652). The sources state that at the end of the 18th century the village had 3 Mennonites and in 1811 - one. In 1868, the village had 235 ha in area, 14 houses, and 94 residents.
Village layout - (partially) a colony located on terpy between the Elbląg - Malbork and Jegłownik - Dąbrowo roads; until 1945, there were 4 homesteads located on the eastern side of a causeway that linked both roads and 3 homesteads situated on the northern side of the Elbląg - Malbork road.
The cultural landscape of the village is in decline. Historical buildings are sparse: 4 Dutch homesteads of the longitudinal type with almost entirely transformed buildings located on the northern side of the road to Malbork. Terpy, draining canals, and polders are still detectable.

A building without a number is a Dutch homestead of the longitudinal type, which includes a house and a high cowshed separated from the main building with a fire wall. The house was erected in the 1st quarter of the 19th century. It has a corner-notched log structure with quoins covered by boards imitating Tuscan pilaster, a vertically boarded gable is boarded, a rafter - collar beam roof structure, and pantile roofing. The gable elevation has 2 axes while the western elevation, 3 axes. The entrance is located in the 2nd axis from the north.
---
SGKP, t. X, s. 374; Piątkowski.24, 60; Mamuszka, s.95; AGII, Lipińska t.III, poz.74.