gm. Cedry Wielkie, pow. gdański, woj. pomorskie

Until 1945 Schmerblock TK (Gotha, Endersch, Schrötter)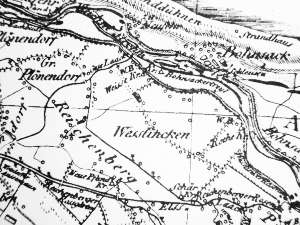 The village was founded in 1354. In 1552, it was included in the "Olęder" colonization; The sources mentioned Hollten, Klasen, and Gertson. In 1613, the village had 56 włókas, 28 morgas. In 1820, Błotnik, including Eschenkrug, had 266 residents and 26 Mennonites.
Village layout - single-building homesteads on terpy
The cultural landscape has survived in fragments. In 1986, only 18 out of 30 homesteads still had buildings. Only 3 Dutch homesteads (longitudinal layout) have survived to the present day. They include 2 wooden houses and several brick farming buildings from the beginning of the 20th century. Terpy with modern houses, field layout, a network of draining canals, and fragments homestead vegetation are detectable.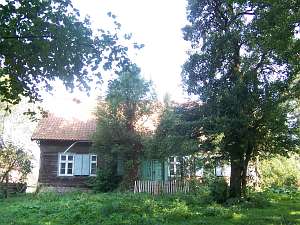 A building without a number is a detached house located in the colony by the Martwa Wisła. Its ridge is situated in an east-west line. It was erected in the 4th quarter of the 19th century. It has a brick underpinning, a log (dovetail halvings) structure with quoins covered by boards imitating Tuscan pilaster, a horizontally boarded pointing sill, a vertically boarded half-timbered, a queen post - purlin roof structure reinforced with a strut, and a ceramic roof. The gable elevation has 3 axes, two-level gable with two windows enclosed by rectangular skylights bound by triangular shapes and two three-sided small windows above. The southern, frontal elevation is symmetrical and has 7 axes with a centrally located entrance. A fragment of a barn has survived in the yard.
---
Penner, s. 15; Lipińska,t.3-poz. 1, Kizik, s. 37-38; AG.