gm. Pruszcz Gdański, pow. gdański, woj. pomorskie

Until 1945 Schmerblock TK (Gotha, Endersch, Schrötter)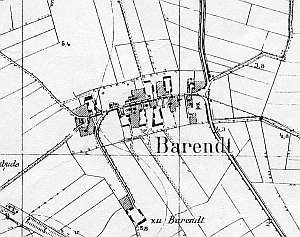 The village was established under the Chełmno Law in the 14th century in the Teutonic Commandry of Gdańsk. Between 1454 and 1793, the village was a part of the Gdańsk land estate. From 1807 to 1814 and from 1814 to 1919, it belonged to the Prussian Treasury. In 1540 and 1543, Bogatka was destroyed by floods and in 1547 was re-founded by Dutch colonists. In 1820, the village had 246 residents, including 6 Mennonites. The petition from 1868 was signed by Ens, Epp, and Wiebe.
Village layout - colonial (single homesteads) located on terpy, (irregular linear village)
The cultural landscape is in decline; in 1986 there were 20 homesteads, including 14-16 with historical buildings. Currently, only several farms with old buildings (usually transformed) have remained. The village has an old devastated Lutheran cemetery located in its northern section. Its area includes ruins of a 14th century church destroyed in 1945 and fragments of gravestones. The arcaded house from the beginning of the 19th century has not survived. A field layout and some terpy with scarce old trees are detectable.

No. 22 (30) is a Dutch homestead. Originally, it probably had an angular layout. The homestead is located on a terpa, on the northern side of the road to Koszwały. It includes a house from 1819 and a transformed cowshed dating from the beginning of the 20th century. A barn has been demolished. The house is located ca. 60 m from the road (lined with old linden trees) and faces it with its gable. It has a brick underpinning, a corner - notched log structure with quoins covered with boards imitating Tuscan pilaster, tile roofing, and a vertically boarded gable. The building has a 2-bay layout with a wide western bay, a centrally located black kitchen, and the large room located in the southwestern corner. The building has a rectangular (on the western side), bipartite hallway with spiral stairs leading to the attic. From the eastern side, the hallway is narrow and opens to the cowshed passage. The gable elevation has 3 axes and a two-level gable with two windows in the lower section and a single window above. The southern elevation has 7 axes with an entrance located in the 3 axis from the east. A wooden granary/coach house has survived in the northern section of the yard.
No. 26 is a Dutch homestead of the longitudinal type dating from the second half of the 18th century. The house has a brick underpinning, a tenon-post and corner-notched log structure with boarded quoins, tile roofing, and boarded gable. The building has been replaced or severely transformed.
---
KZSwP s.1-2, Lipińska,t.3- 27; AG, MP.