gm. Lichnowy, pow. malborski, woj. pomorskie

Until 1945 Barendt TK (Schrötter), Barent (Gotha), Barend (Endersch,)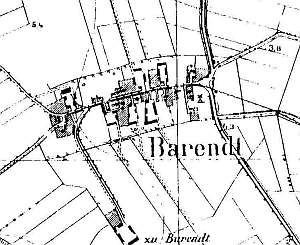 The village was founded in 1321 by the commander Werner von Orseln on 50 włókas. The sources from 1776 mention the name Izaak Wall. In 1820, the village had 384 residents, including 4 Mennonites.
Village layout - linear and square village
The historical spatial layout and buildings have partially disappeared. A half-timbered church has survived in the old Lutheran cemetery located in the center of the village. It has been converted into a St. Catherine's Catholic church (1841-1842). Further away (westward) on the functioning cemetery, there are ruins of an old Gothic church from the 14th century. The cemetery has stone gravestones, which have been moved there from the church. In 1980s, out of 12 traditional homesteads only 3-5 had historical buildings; for example: a brick house no. 17 from 1854, a minor gentry half-timbered house no. 45 dating from the end of the 18th century, and a long 7-threshing floor barn from the beginning of the 19th century located in the homestead no. 33. Other historical buildings date from the end of 19th and beginning of the 20th centuries. In the former estate located in the colony, there is an arcaded house and remains of traditional outbuildings. This situation has been maintained.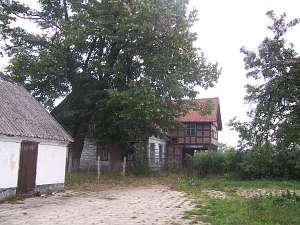 A house situated in the northern section of the colony, on the eastern side of the local road facing it with its gable. Farming buildings are located on its northern and western sides. The building was erected in the 2nd quarter of the 19th century on a brick underpinning. It has a corner-notched log structure, quoins covered boards, vertically boarded gables. On its southern side, the building has a half-timbered extension supported by 6 Tuscan columns and half-timbered walls. The roof has a queen post - purlin structure and is covered with pantiles. The western gable elevation has 4 axes with a 2-level gable. The bottom has 4 axes with windows enclosed by rectangular skylights and a single window above. The 7-axial southwestern elevation has a 2-window extension, an arcade in 3 central axes, and a centrally located entrance. The building is abandoned. A half-timbered granary/coach house has also survived in the homestead.
---
Schmid, s.16-23; Lipińska,t.3- 97; AG; BF.