gm. Pruszcz Gdański, pow. gdański, woj. pomorskie

Until 1945, Scharfenberg TK (Schrötter), Scharffenberg (Endersch),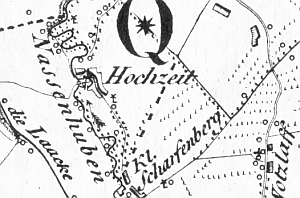 The village was mentioned in 1308 and was granted a charter by the Teutonic Knights in 1367. In 1546, it was destroyed by a flood and was resettled in 1547. The sources mention the surnames Florissen and Jantzen. In 1885, the village had 514 ha of land, 10 houses, and 87 residents.
Village layout - flood bank Waldhufendorf village in the western section (currently part of Lędowo); single-homestead and linear village in the eastern section.
The cultural landscape in the northern section is undetectable as a result of new developments associated with the road E-7. Traditional colonies are in decline, wind protection belts do not coincide with draining canal network.

No. 2 is a Dutch wooden house erected in 1850 (transformed). It has a corner-notched log structure with covered quoins, a half-timbered attic room, a vertically boarded gable, and a two-bay interior with uneven bays and the large room located in the southwestern corner.
---
SGKP, t. X, s. 368; Penner, s. 12-13, Lipińska,t.3- 28; Kizik, s. 37