gm. Miłoradz, pow. malborski, woj. pomorskie

Until 1945 Biesterfelde(Schrötter), Bisterfeld (Endersch), Beistfeld (Gotha),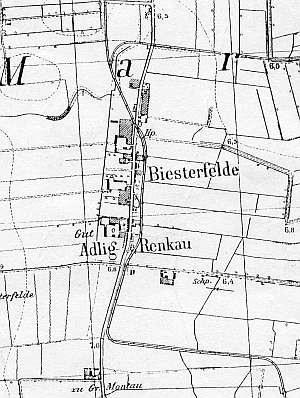 The village was founded by the Grand Master Ludolf König on 36 włókas under the name Bysterfeld. The church mentioned in the 16th century was demolished in the 19th century. The old estate Renkau (Rękowo) was incorporated into the village. In 1820, the village had 166 residents, including 10 Mennonites.
Village layout - small linear village with buildings on both sides (initially, on one side) of the north-south, Kończewice - Mątowy Wielki road; two large farms in the western section and one in the eastern section; a cemetery with a Gothic ossarium located in the central section of the village, on the eastern side.
The cultural landscape is in good condition. The village layout is detectable. The historical architecture includes several masonry houses from the beginning of the 20th century and an arcaded house from the 1st quarter of the 19th century. Fragments of vegetation surrounding the old Lutheran cemetery, a fragment of an alley, and a medieval ossarium from the 14th century have survived. Practically, all gravestones have been removed. Vegetation lining roads and field layout in the eastern and western sections of the village have been partially preserved.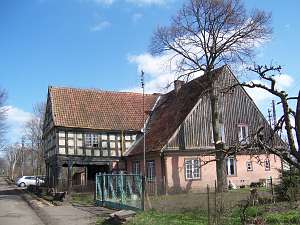 An arcaded house situated on the eastern side of the road, facing it with its ridge. It was erected in the 1st quarter of the 19th century. It has a corner-notched log structure, boarded gables, and a half-timbered arcade located in the middle of the western elevation and supported by 8 stylized Ionian columns. The building has rich architectural details - boards covering corners, the topping cornices, columns and festoons of the arcade, and decorative entrance door.
---
Schmid, s. 32, Lipińska,t.3- 139; AG.