gm. Kutno, pow. kutnowski, woj. łódzkie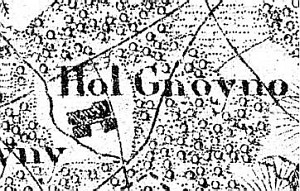 This Dutch village was founded in 1796 near the village of Gnojno. In 1881, the settlement had 4 houses and 48 residents.
Franki is a linear village located to the southeast of Kutno and to the south of the village of Wroczyny Małe, along a north-south line. Buildings are located on the western side of the road.
The cultural landscape related to the Dutch colonization has been transformed; however, there are two modern homesteads located in slightly elevated area - probably man-made rises. The colonists' cemetery has survived and is located in the north-western part of the village.
The cemetery is located approx. 150 m from the village road and has a rectangular layout. The cemetery is entirely overgrown with bushes; no gravestones have survived.

---
SGKP, t. II, 1881, s. 402;
M. Zbieranowski, Wypisy do słownika wsi holenderskich na Mazowszu.