gm. Cedry Wielkie, pow. gdański, woj. pomorskie

Until 1945 Klein Zünder (Schrötter), Kl. Zinder (Endersch)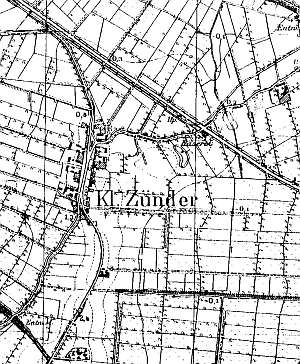 The village was founded in 1372 under the Chełmno law by the Teutonic Knights in the Gdańsk Commandry. Between 1454 and 1793 and between 1807 and 1814, the village was a part of the Gdańsk town estate; between 1793 and 1807 and between 1814 and 1919, it belonged to the Prussian treasury. It was granted privileges again in 1561 by the Gdańsk Town Council.
The village layout - linear village.
The cultural landscape has been severely transformed by contemporary architecture. In 1986, out of 18 traditional homesteads, 12 still had historical buildings. Only several buildings have survived to the present day; they include: a masonry house No. 10 from ca. 1880 with rich architectural details, an arcaded house No. 7 from mid 19th century (very poor condition), and a wooden house No. 39.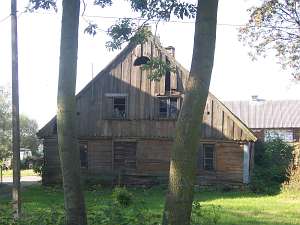 No. 138 is a house from a Dutch homestead located in the colony on the northern side of the road E7, on the western side of the local road, facing it with its ridge. It was erected at the end of the 18th century on a stone underpinning. It has a log structure joined at corners by dovetail halvings with quoins covered by boards imitating Tuscan pilaster, a vertically boarded gable, a rafter - collar beam roof structure, and tile roofing. The gable elevation has 3 axes and a two-level gable with two windows in the lower part and a small semicircular window above. A fragment of a pedestal supported by volutes with illegible inscription is located in the finial of wind ties. The northern elevation has 6 axes and the entrance located in the 3rd axis from the west. Eight-field, double-leafed, framed windows have survived. The building is in very poor condition.
---
KZSwP s. 2; Lipińska, t.3- 2.