gm. Cedry Wielkie, pow. gdański, woj. pomorskie

Until 1945 Gross Zünder (Schrötter) Gr. Zinder (Endersch), Gros Sinder (Gotha)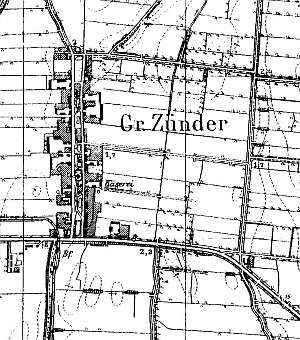 The village was granted the Chełmno rights in 1350 by Winrich von Kniprode (existing village received the privileges). The village was located in the Gdańsk Commandry. Between 1454 and 1793 and between 1807 and 1814, the village was a part of the Gdańsk town estate; between 1793 and 1807 and between 1814 and 1919, it belonged to the Prussian treasury. It was granted privileges again in 1552 as a result of the Dutch colonization. In 1820, the village had 632 residents, including 1 Mennonite.
Village layout - linear and square village
The cultural landscape has been mostly preserved. The village layout is detectable with a restored Gothic church located in the center and ca. 12 masonry houses dating from 3rd and 4th quarters of the 19th century including characteristic buildings made of yellow face brick - houses no. 33, 41, and a house no. 52 with a half-timbered attic room with a partially hipped roof. Construction of modern buildings has been quite intensive. The Katalog Zabytków (Catalogue of Historical Monuments) mentions that wooden houses from the 1st half of the 19th century (No. 68, 70, and 76) were in poor condition before 1986.

No objects directly associated with the Dutch colonization have been found.
---
KZSwP s.3-5, AG IV, Lipińska,t.3- poz. 3.