gm. Stegna, pow. nowodworski, woj. pomorskie

Until 1945 Holm TK ( Schrötter)
The village (colonial type) was established in 1789. In 1820, together with Rohtplan and Kreussitz, the village had 141 residents, including 8 Mennonites.
Village layout - flood bank Waldhufendorf village located on terpy, on the eastern side of the Vistula Szkarpawa.
The cultural landscape has been almost entirely transformed by a state farm (PGR). Only one house from a Dutch homestead has survived. It was used for office spaces.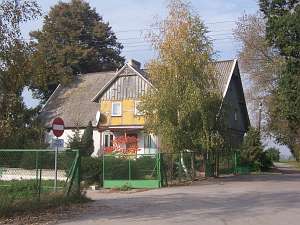 A building without a number is a house that belonged to a Dutch homestead of the longitudinal type (farming section separated by a fire wall was demolished). It dates from the 3rd quarter of the 19th century. It is situated on the southern side of a driveway, facing it with the gable. Its corner-notched log structure sits on a brick underpinning. It is vertically boarded and has a half-timbered attic room in the southern roof slope. The interior has been transformed; the roof is covered with asbestos tiles. The gable elevation has 3 axes and a 2-level gable with two windows in the lower section, one in the upper section, and fretwork decoration in the finial. The southern elevation has been transformed. The northern elevation has 6 axes and an entrance (with a porch) in the 3rd axis from the gable.
---
Lipińska, t. III, poz.234; AG